Religious Education (K-12)
10:00am service: Childcare (0-3) and Religious Education (ages 3-18) are available.
Religious Education (RE) occurs for children and youth during the service. There is a nursery and a preschool room. For school-age kids there are rooms for age groups 5-9, 9-12, and 12-18. Children are also welcome to sit in the service with their parents.
The RE classes join the congregation for the beginning of the service to enjoy a Story for All Ages, then go to their classrooms for lessons and activities. Every 5th Sunday, RE for ages 5-18 will be held in the Chapel for lessons and activities on Social Justice or a Children's Chapel celebration.
About Our Children and Youth Ministry
At BRUU, we strive to help our children, youth, and their families grow spiritually with lives filled with compassion and wholeness. Through our Sunday morning Religious Education programs and a variety of family fellowship opportunities, we seek to cultivate in our children both a love of liberal religious life and a sense of belonging in a wider faith community.
Each week, children, youth, and adults gather in classrooms and the sanctuary to question, explore, observe, and imagine. Sunday mornings at BRUU are opportunities for children and adults to come together to share in exploration of our liberal religious heritage, our common values, and our individual journeys toward truth. Our goal is to cultivate and sustain in our young people a love of the spiritual life, a foundation for personal theology, and a confidence in their ability to be stewards of their own souls.
Our Religious Education Program is one that:
Introduces children to beliefs and celebrations of a variety of religious traditions and values
Explores UU purposes and principles and how they relate to children's lives
Provides opportunities to explore and develop religious thoughts and beliefs in a loving and supportive environment
Promotes the care and well-being of people of all ages through multigenerational services and special events
In order to ensure that our children are well grounded in the many different aspects of our religious tradition, we have chosen three basic areas of religious education content with which we want our children to be familiar. We call these areas Pillars: Unitarian Universalist Identity, World Religions, and Judeo-Christian Heritage. Running with a three year cycle, we focus on one pillar each year. Using this approach, our children can build on what they have already learned without structured learning becoming obviously repetitive
Story for All Ages
RE students start their Sunday experience in the Sanctuary with the congregation where a story with UU themes is narrated to all. The students are then released to their classrooms.
Summer 2016 Children & Youth RE Programs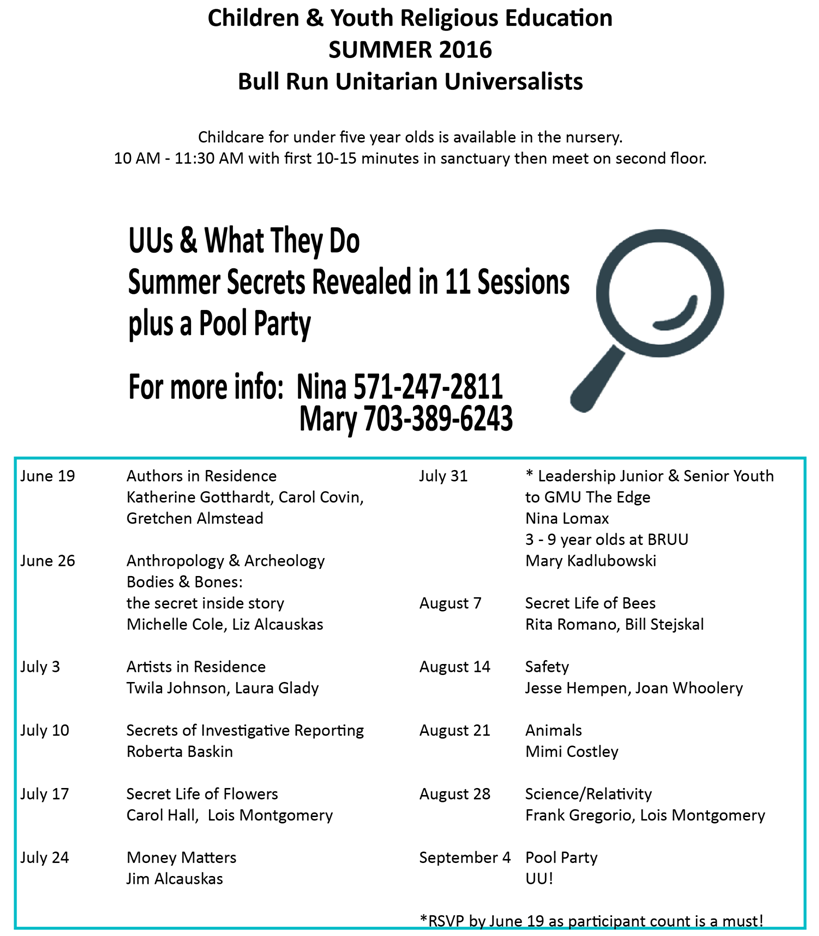 2015-2016 Children & Youth RE Programs
Ages 3-6: Super Heros! – Bible People
This class will introduce children to the stories of people from the bible who acted with courage and wisdom in their attempts to lead their lives fully and make the world a better place for others. We will relate the Unitarian Universalist Principles to these stories and encourage everyone to use their own positive "super powers" to grow spiritually and ethically. This class will feature story-telling, dramatic play, and activity time during each session.
Ages 7-9: Timeless Themes
Timeless Themes introduces children to religious stories that are central to our culture and to our Unitarian Universalist heritage. We will learn about many beliefs and values that have been important for thousands of years; among them the belief in a transcendent power (or God), the love for one's neighbor, the forgiveness of wrongdoing, and the imperative to speak out against injustice. Participants will hear stories and engage in games, group, and individual activities as they journey through the Hebrew and Christian Bibles.
Ages 10-12: Bibleodeon
Bibleodeon is an experiential curriculum that introduces young UUs to stories from the Christian and Hebrew Bibles. Children will become familiar with many well-known Bible stories and develop a basic understanding of the Bible's historical and cultural importance. Bibleodeon includes discussion, drama, games, music, and creative expression. Each Sunday session features a "Mystery of the day" which helps guide participants as they consider the story's place in their lives.
Ages 13-19: YoUUth
This year our youth group will be exploring questions about the western religious heritage of Unitarian Universalism using a curriculum entitled "Truth and Meaning". Each session will pose difficult and complex questions about the dominant religions in our society (such as "Do I have a soul?" or "Why don't some other religions welcome the LGBT community?") that the youth consider and try to resolve with help from adult facilitators. We will relate these questions to our own UU practice and help the participants apply this knowledge and relevance to their own beliefs. Class will not meet on the first Sunday of each month in order to give the youth the opportunity to attend the service in the sanctuary.
Fifth Sundays
All RE age groups will join in the BRUU Chapel for lessons and activities on Social Justice or a celebration of special events with Children's Chapel.
RE Council
Religious Education activities, including Adult RE, are coordinated by an RE Council
Mary Kadlubowski (acting)
re.council@bruu.org
Childcare Coordinator
Sara Cox
childcare@bruu.org
Volunteer Opportunities
Lead and Assistant Teachers:  Part of a team leading students in discussion and activities related to the established curriculum.
Sunday Superintendent: Supervises general operation of RE activities each Sunday.
Nursery Volunteers: Provide childcare for children 0-3 years old.
Please contact the Director of RE or visit the RE table in the Fellowship Hall after service.
BRUU Religious Education Registration Form (.PDF)