Rentals_Temp
A setting as special as the event . . .
Offering flexibility as well as charm . . .
The Bull Run Unitarian Universalists' facility is the perfect setting for special personal or business events – both large and small. The building offers a spacious sanctuary, many classrooms, and a large meeting/dining hall with an adjoining kitchen. Located on the corner of Church and Main Streets in the heart of historic Old Town, Manassas, the structure is both charming and convenient. Built in the early 1930's, the building's stately façade is red brick.
Inside the double front doors, the large, airy sanctuary features stained glass windows and wood pews that seat up to 230, including the balcony.
Downstairs, the meeting/dining hall seats 140 and has an adjoining kitchen.
Throughout the building are multipurpose rooms of various sizes, available for small group meetings or training sessions.
If you are interested in renting space, please complete the online form. You may also call the Bull Run Unitarian Universalists' office at 703-361-6269, or send e-mail to buc@bruu.org. The facilities manager will contact you.
Map & Directions
We are located in Old Town Manassas at the corner of Church Street (Route 28 South) and Main Street.
Church Street is a one-way street, and Center Street is one-way the other way a block south of Church Street.
From the West
Take Route 28 north into Manassas – this becomes Center Street, and you turn left onto Main Street, go one block, and you're there.
From the East
Take the Prince William Parkway (Route 3000) to the Manassas City limits (Liberia Avenue intersection), go straight on Wellington Road, turn right on Grant Avenue, turn right onto Center Street, then left onto Main Street and go one block.
From the South
Take Dumfries Road (Route 234) north to Manassas, turn right onto Business 234, which becomes Grant Avenue, turn right onto Center Street, then left onto Main Street and go one block.
From the Northeast
Take Route 28 (Centreville Road) south to Manassas where it becomes Church Street and go two blocks.
From the Northwest
Take Business Route 234 (Sudley Road) south into Manassas, remain on Business Route 234 south by turning right onto Grant Avenue, turn left onto Center Street, then left onto Main Street and go one block.
Parking
On-street parking is scarce directly in front of the church, but there is ample parking within a couple blocks. Across the street are two business parking lots available on Sundays. There are several municipal parking lots within Old Town, including the new five-story parking garage next to the train station, between Battle and Main Streets (two blocks from BRUU). The entrance to the parking garage is on Prince William Street.
Map Showing Room Locations in Building
First Floor (with Fellowship Hall and Kitchen)
Second Floor (with Sanctuary)
Third Floor
Accessibility
We welcome people with special access needs, and we are working to provide universal access.
We have an elevator (450-pound capacity) big enough for an attended wheelchair. The elevator serves the Sanctuary and the Fellowship Hall. Other entrances to the building involve steps.
There is one handicap parking space on Main Street between Center and Church streets near the BRUU building, and the curb along Main Street is cut for wheelchair access.
Inside the building:
From the Sanctuary, the Library and Classrooms 206/208 are marginally accessible with a slight ramp.
From the Fellowship Hall, there is a unisex accessible bathroom.
From the Fellowship Hall, the Lounge is accessible with a slight ramp.
Classrooms 304/306 are not accessible to a wheelchair.
Ceremonies and Receptions
Welcoming all couples and types of ceremonies, BRUU offers the Sanctuary and the Fellowship Hall for ceremonies and receptions. The Sanctuary has a baby grand piano.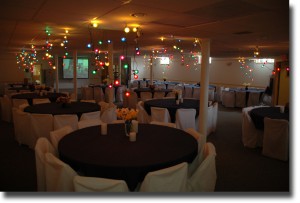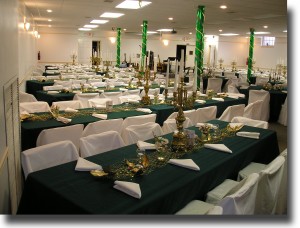 Space
Fee
Sanctuary for rehearsal and ceremony
$500
Sanctuary piano
$75
Use of the Fellowship Hall for reception (includes use of kitchen for plating only)
$680
Kitchen Rental, with Reception (includes sinks, food, staging area, oven, stove, and dishwasher)
$200
Fellowship Hall A/V rental, including:

3 wired mics & stands
2 wireless mics
6-channel sound mixer
Ceiling speakers throughout Fellowship Hall
2 large speakers
DVD/VHS player
Ceiling-mounted digital projector
Retractable projection screen

$50/hr
A deposit of $200 is required is required for ceremony and reception. Additional $200 deposit for Kitchen Rental and for A/V Rental. Two rooms included for dressing onsite, if desired. Time for setup, cleanup, and rehearsal is included.
Rental includes the space and tables/chairs only. Dance floor, linens, food, decorating, minister, etc. are provided by you or your caterer.
Conferences
BRUU offers the Sanctuary, the Hall, and many smaller rooms for conferences.
Space
Fee
Lounge, room 105
$10/hr, minimum 3 hours
Library, room 204
$15/hr, minimum 3 hours
Classroom, 206-208 or 304-306
$10/hr, minimum 3 hours
Sanctuary – Friday/Saturday after 5 PM
$50/hr, minimum 4 hours, $200 deposit required
Sanctuary – Any other time
$15/hr, minimum 5 hours, $75 deposit required
Fellowship Hall – Friday/Saturday after 5 PM
$50/hr, minimum 4 hours, $200 deposit required
Fellowship Hall – Any other time
$15/hr, minimum 5 hours, $75 deposit required
Fellowship Hall A/V rental, including:

3 wired mics & stands
2 wireless mics
6-channel sound mixer
Ceiling speakers throughout Fellowship Hall
2 large speakers
DVD/VHS player
Ceiling-mounted digital projector
Retractable projection screen

$50 flat fee
Kitchen, including sinks, food staging area, dishwasher
Included with Fellowship Hall rental
Music Recitals
Special rate to Music Teachers wishing to host recitals:
$150 flat fee
Sanctuary for 3 hours – seats 200
Fellowship Hall for concurrent 3 hours for light refreshments
Baby grand piano
Sound system, including 2 mics with stands
Fridays and Saturdays after 5:00pm are exempt from this special rate