BRUU Auction 2022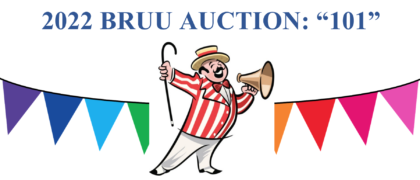 REGISTER & BID NOW
Together we will accomplish great things!
Thanks to everyone who has supported the auction by donating and volunteering their time and talent.
Select "Registration" in the navigation bar at the top of the page
BID during The Silent Auction OPEN NOW
Check out the stash! https://auctria.events/BRUUAuction2022
*Bid on red-tagged items  until 7:15 PM on Dec. 3rd  Saturday at 7:15pm
Most red-tag items on display Auction Night, Dec. 3 and closes Dec 10th, Saturday at 9pm. Winners may claim after 7:30 PM.
Donors & winners notified to coordinate delivery.

BID during The Live Auction: Saturday, Dec 3, 4:45-9pm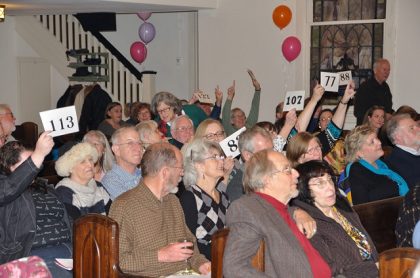 Drinks, appetizers and finger foods will be available in Fellowship Hall as the Live Auction items are cast into the bidding arena. Remote bidders will be able to join in the fray via Zoom and compete for a slot at one of the fabulous dinners or activities that will be presented on the Auction Block.  So, you can choose to join us on-line or in person on December 3rd!
We suggest Zoom participants familiarize themselves with the "Raise Hand" feature on Zoom.  This feature is found under the "Reactions" tab on the Zoom screen.  Using the "Raise Hand" feature will ensure that no matter how many people join by Zoom, you'll be at the front of the queue of Zoom participants so that the auctioneers (one of whom willing be scanning Zoom at all times) will be sure to see your bid. Once your bid has been acknowledged by the auctioneers, you can then "Lower Hand" using the same feature. We'll show you how this works at the beginning of the auction.

Please email Scott Maile at auction@bruu.org if you have questions or want help with the live event.