Rev. Jack Young's Obituary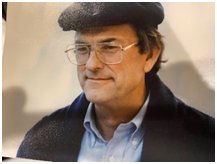 A memorial service is being planned for April 1 at 2:00 at the Accotink Unitarian Universalist Church in Burke, Va. where he is interred.
The Ministries and Faith Development staff offer our condolences to the family and colleagues of the Rev. Jack Young, who died on August 17, 2022, at the age of 89.
Jack was born on September 22, 1933, in Liberty, MO to Frank McKinley Young and Irene Louise Young. He spent his early years in a small-town, surrounded by woods, rivers, and lakes. From that memory he wrote one of his first sermon, remembering the warning from his mother as a child, "Not to go beyond the Sheriff's chicken yard." The sermon was about early boundaries that were set for us and how we move beyond them in life. As a teen in Kansas City, he questioned the limits and methods of organized religions. While at the University of Arkansas, he was introduced to a Unitarian Fellowship. Jack was comfortable with its approach and drawn to the intellectual and moral honesty of the denomination. Following graduation, he practiced law for 26 years in Little Rock, Arkansas.  He joined the Little Rock Unitarian Church and was an active member, particularly interested in social justice. He lost his first job as an attorney for the city by disagreeing with then Gov. Faubus on the school integration issue, and later participated in the march supporting the integration of Central High.
Jack knew he no longer wanted to continue practicing law and had achieved all he wanted to in that arena. In 1981, Jack went on a solo motorcycle trip to Nantucket to clear his head and research his family genealogy on his mother's side. He met up with distant relatives many of whom became good friends. During that trip he decided to retire from his law practice and pursue a career where he could possibly "help someone keep their ox out of the ditch, rather than haul it out after the fact." Back when he was introduced to a just-formed Unitarian Fellowship at the University of Arkansas, he had thought about becoming a Unitarian minister. Jack found himself considering ministry again, but this time from a greater base of experience in life. Becoming a minister, he wanted to grow his own spiritual awareness and share the process with others. With this call, he graduated with his Master of Divinity from Starr King School for the Ministry in 1986.
Rev. Young was ordained in 1987 by the Unitarian Universalist Church of Chattanooga, TN where he served his first settled ministry (1987-1992). At the Chattanooga congregation, he concentrated on inner structures and programs and laid the groundwork for a Wednesday evening program of meaningful dimension, which he called "Wonderful Wednesday." His tenure marked improved programming for younger people, increased church membership, and Sunday Services attendance. He introduced and facilitated discussion groups and adult education programs that were well-liked and attended. He assisted in efforts to improve the organization and productivity of the congregation as well as introducing innovative fund-raising activities. In this regard he was particularly pleased to host Huston Smith, whom he greatly admired, as a speaker and guest for the Church and community.  Furthermore, he represented the church in several community forums, including television, and at regional and national denominational activities.
In 1992, Rev. Young was called to the UU Congregation of Rockville, MD where he would serve until 1998. His ministry at Rockville was also wonderfully productive. He was very involved with the teens at Rockville and helped youth understand the UU approach to religious life, empowerment, and self-confidence. In 1999 the Rockville congregation honored him as their minister emeritus. Subsequently, Rev. Young served the Bull Run UUs, in Manassas, VA as an interim minister (2003-2004) assisting the congregation through many opportunities. He was a nurturer, teacher, spiritualist, and activist. His services were thoughtfully put together and his sermons were stimulating and thought-provoking. He was excellent at conflict resolution and entreated and challenged congregants to look below the surface to deepen one's self-awareness.
In addition to his parish and interim ministry, Rev. Young served the denomination as president of the Chesapeake UUMA (1998).
In 1972, Jack was elected to the Little Rock Board of Directors (City Council). He was president of the Little Rock Racquet Club (1975). Likewise, in 1976, he served as President of Metroplan (Central Arkansas Council of Governments). He also served as President of the Peony Association when he lived in Little Rock.
Among his many interests were classical guitar, which he studied in mid-life, attending the storytelling festival in Jonesborough Tn. gardening, tennis and woodworking. When he retired, he did fine woodworking, naming his business All Things Wood. He made a nametag holder for UUCR and a podium for BRUU to name a couple of his projects.
Jack is survived by his wife Diane Bates; his children: Sidney Young (Linda), Scott Young, and Anne Bates-Young; stepchildren: Jennifer Bates, and Nicholas Bates (Diana); grandchildren: Andrew, Meghan (Paul Finizio), Bryan (Alicia), Nicholas, Isabella, and Olivera Bates; as well as great-grandchildren: Maia and Otto Finizio, Kaylee, and Madison Young. He was predeceased by his parents Irene Louise McGill and Frank M. Young, and his sister Joanne Watkins.
In lieu of flowers, donations can be made to the Parkinson's Association.
Notes of condolence can be sent to Diane Bates, 7105 White Ridge Lane, Fairfax Station, VA 22039.