Religious Education (K-12)
Childcare for young children age 0-3 is available. We have a nursery and a preschool room.
BRUU provides Religious Education (RE) classes for school-age kids (ages 4-17) during the service. We have rooms for age groups 4-7, 8-10, 11-13, and 14-17. Children are also welcome to sit in the service with their parents. Take a look at this year's Religious Education Program for Children and Youth.
The RE classes join the congregation for the beginning of the service to enjoy a Story for All Ages, then go to their classrooms for lessons and activities.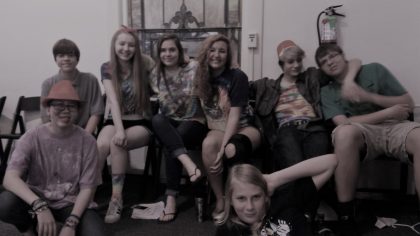 About Our Children and Youth Ministry
At BRUU, we strive to help our children, youth, and their families grow spiritually with lives filled with compassion and wholeness. Through our Sunday morning Religious Education programs and a variety of family fellowship opportunities, we seek to cultivate in our children both a love of liberal religious life and a sense of belonging in a wider faith community.
Each week, children, youth, and adults gather in classrooms and the sanctuary to question, explore, observe, and imagine. Sunday mornings at BRUU are opportunities for children and adults to come together to share in exploration of our liberal religious heritage, our common values, and our individual journeys toward truth. Our goal is to cultivate and sustain in our young people a love of the spiritual life, a foundation for personal theology, and a confidence in their ability to be stewards of their own souls.
Our Religious Education Program is one that:
Introduces children to beliefs and celebrations of a variety of religious traditions and values
Explores UU purposes and principles and how they relate to children's lives
Provides opportunities to explore and develop religious thoughts and beliefs in a loving and supportive environment
Promotes the care and well-being of people of all ages through multi-generational services and special events
In order to ensure that our children are well grounded in the many different aspects of our religious tradition, we have chosen three basic areas of religious education content with which we want our children to be familiar. We call these areas Pillars: Unitarian Universalist Identity, World Religions, and Judeo-Christian Heritage. Using this approach, our children can build on what they have already learned without structured learning becoming obviously repetitive
Time for All Ages
RE participants start their Sunday mornings in the Sanctuary for the start of worship. After the Time for All Ages, children and youth are escorted to their small group exploration by their class advisors. Parents/Caregivers are welcome to accompany their child to the room as well.
This Year's Program
Take a look at this year's Religious Education Program for Children and Youth.
Registration
To register your child, complete the BRUU 2019-2020 RE Family Registration and bring it with you to BRUU.
Contacts
Childcare
Childcare is coordinated by our Director of RE (dre@bruu.org).  If you have any questions email her.
RE Council
Religious Education activities, including Adult RE, are coordinated by an RE Council (re.council@bruu.org).
Jennifer Malos, Chair
Owen Davies
Annaliess Trommatter
Angie Carrero
Director of Religious Education
Kristin Worthington is our Director of RE (dre@bruu.org). Sign up here for weekly email updates from our Director of RE, Kristin…
Volunteer Opportunities
Lead and Assistant Teachers

Part of a team leading students in discussion and activities related to the established curriculum.

Sunday Superintendent

Supervises general operation of RE activities on occasional Sundays.

Nursery Volunteers

Provide childcare for children 0-3 years old.