Who you might see when you get here

Welcome
You don't always know what to expect, but here's the basics.
Step inside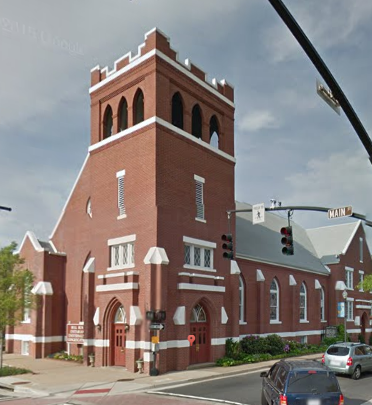 For a Sunday Service, come to the door on Main Street and step inside. At the base of the steps into the Sanctuary, you'll be met by a greeter with a name tag who will welcome you to BRUU. If you have children who would be interested in the Religious Education class for their age group, the greeter will help steer them to the appropriate classroom. You are welcome to check it out yourself, and meet the teacher and Sunday Superintendent for that day.
Find a seat
Our entryway is cramped (the first services in the building were held in 1929), so we encourage everyone to quickly find a seat in the Sanctuary. You'll notice that we have old-fashioned, traditional wooden pews. Expect people on your left and right to say hello, though occasionally your neighbors may be engrossed in chatting with friends on their other side. Check out the stained glass windows and the banners on the wall, and notice how we create a setting for worship without using common religious icons.
The service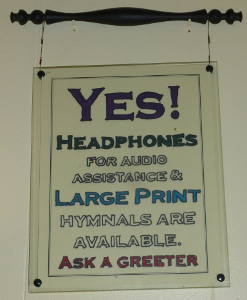 Our Sunday Service Moderator starts with announcements, followed by a call to worship when we light the chalice. During the service, you may see our Music Director, Minister, and one or more choirs. The greeters will pass the collection plate. We encourage guests who would like more contact with BRUU to place the Visitor Information Form into the collection basket.
Music
Music is an important part of every BRUU service, and we are fortunate to have many members who share their musical talents.  In addition to congregational singing of 2-3 hymns, there are usually instrumental pieces and one of our choirs, soloists, or ensembles will sing an anthem.
Closing
At the end of the Sunday Service, we join hands with our neighbors in the pew and sing "May we go with peace and love, and share them with the world, amen."
Religious Education classes end when the Sunday Service is over. After class, children are able to play with their peers in the Activity Room, allowing adults time to meet with each other.
Fellowship
After the close of the service, everyone is invited to Fellowship Hour to mingle over coffee, tea, and snacks.  Guest who would like current members to initiate a conversation are encouraged to pick up a yellow mug – if you'd rather lurk anonymously, grab one of the other mugs from our eclectic collection. Zoom participants are invited to breakout rooms for Fellowship time.