Music Ministry
BRUU Welcomes David Maley
BRUU extends a warm welcome to David Maley, our Interim Music Director starting January 6th, 2023. David is an experienced music minister and phenomenal pianist. He is also a music therapist, piano instructor, and composer. David completed the music therapy program at Shenandoah University and currently holds the credential, MT-BC (Music Therapist Board Certified). His undergraduate work was completed at George Mason University, where he earned a B.A. in Music, with minors in Psychology and Exercise Science. David was previously the accompanist at Calvary Presbyterian Church. He also works as a piano instructor at a music studio in Falls Church, VA. David plays piano, guitar, organ, accordion, and sings. In his free time, he enjoys composing music, reading, kayaking, hiking, and being in nature.
Music is an important element of our congregational life.
The following is our safety protocols and choir meetings:
Vaccinations are required and everyone must wear a mask, until changes are officially announced in our newsletter and website.
The adult choir meets on Wednesday nights at 7:00pm in the sanctuary. It is not necessary that you be able to read music or have prior experience; anyone who can match pitches and carry a tune is welcome to join.
Instrumentalists and singers are welcome to play for services, either solo or in a small ensemble.
Please contact our interim music director, David Maley, if you have questions. (music@bruu.org or 703/361-6269)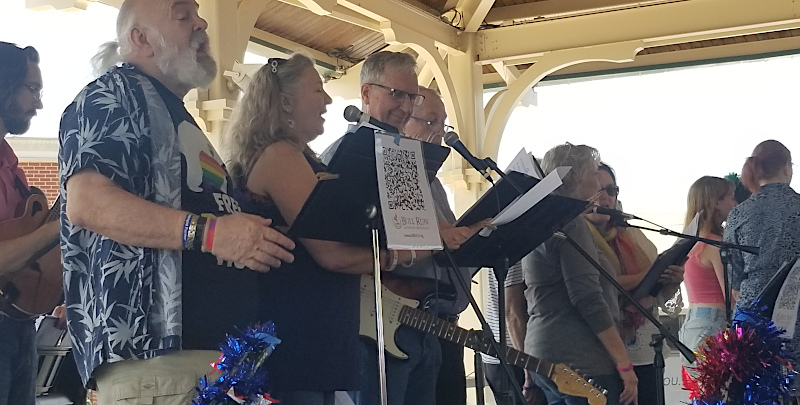 BRUU choir singing at 2023 PRIDE Festival (Harris Pavilion in Manassas)