BRUU Auction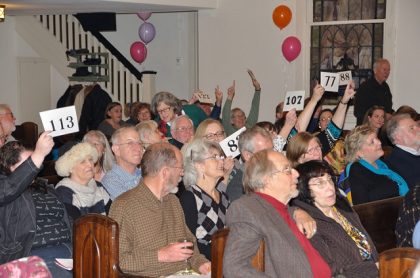 The BRUU 2019 LIVE AUCTION was A GREAT SUCCESS! The 2019 auction we reached an all-time high with total over $38,000. A big THANK YOU to everyone who contributed to the event's success.
2021 Auction will be held on November 6th
It takes many volunteers, donations, and bidders to make our auction a success. Help BRUU by participating as many ways as you can. Start by planning to attend (mark your calendars), volunteer to help, and/or donate items/events to the 2021 Auction. We need people to donate arts, crafts, baked goods, dinners, consultations, lessons, events, vacations, and more, to auction off.
We need to know what items, etc., you are offering no later than October 15!
Here is the PAST AUCTION BOOKLET used in 2019 to give you ideas for items/events to donate.
Complete the online DONATE AUCTION ITEMS FORM to get your item listed in the 2021 Auction catalog!
Janette Muir, your grateful Auction Czarina
Questions? Email Janette Muir at auction@bruu.org