Affordable Housing
BRUU members range across the socio-economic spectrum, but we all care about the challenge of creating an adequate supply of affordable housing in Manassas, Manassas Park, and Prince William County.
Housing is a complex issue.  There is no silver bullet, no single solutions that would solve the problem if only social justice warriors would mobilize enough public pressure for elected officials to take action.  Getting enough affordable housing in our community, and in the right places, will be a marathon and not a short sprint.
Starting in 2022, a group of BRUUers began meeting once a month to learn about the many existing Federal/state agencies and programs that deal with housing.  (Interested? Contact us at housing@bruu.org)
We accepted Prince William County's definition of affordable housing ("housing that costs 30% of the household's annual gross income or less") and chose to focus on the challenge for those earning 80% or less of Area Median Income (AMI).
We decoded acronyms such as LIHTC and started to understand which programs address which problems.  In particular, we focused on what can be done at the local level to expand the supply of affordable housing units, and where our advocacy could make a difference.
Within Manassas and Manassas Park, BRUU's affordable housing advocates are meeting directly with developers, key officials, and elected leaders.  Much of BRUU's social justice work regarding affordable housing in Prince William County is channeled through Virginians Organized for Interfaith Community Engagement (VOICE).
It's easier to recommend different solutions after clarifying the problem. Simply scattering new affordable housing units anywhere, far from affordable transportation, would be poor planning.  As noted in Prince William County's long-range 2040 Comprehensive Plan's Housing Chapter:
It is generally recommended that the combined cost of housing and commuting should not exceed 42% of a households' gross income. On average, transportation is the second largest household expenditure after housing, and transportation costs are directly impacted by the location of housing, specifically proximity to employment, schools, and other essential service destinations.
One of our initial successes in 2022 was getting the problem quantified in Prince William County's 2040 Housing Chapter: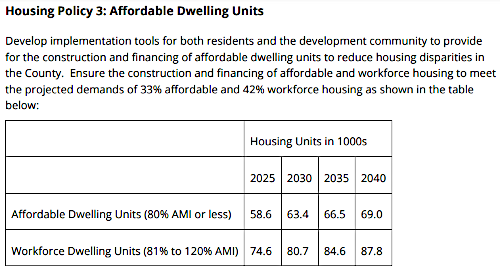 One challenge in dealing with affordable housing is the complexity of the government programs and the need to decode bureaucratic jargon.  We finally figured out the number of units financed by the Low Income Housing Tax Credit (LIHTC) program in Manassas and Manassas Park, and when those units might be converted to market-rate housing:
22 units at Manassas Arms (financed via LIHTC in 1997, could be converted to market-rate rents in 2027)
82 units at South Main Commons (financed via LIHTC in 2000, could be converted to market-rate rents in 2030)
36 units at Signal Hill Apartments (financed via LIHTC in 2003, could be converted to market-rate rents in 2033)
148 units at Park Place (financed via LIHTC in 2004, could be converted to market-rate rents in 2034)
59 units at Oaks of Wellington (financed via LIHTC in 2005, could be converted to market-rate rents in 2035)
282 units at Brentwood (financed via LIHTC in 2009, could be converted to market-rate rents in 2039)
79 units at Quarry Station Seniors (financed via LIHTC in 2002, refinanced in 2023 to rehabilitate, could be converted to market-rate rents in 2053)
Source: NOVOGRADAC, LIHTC Mapping Tool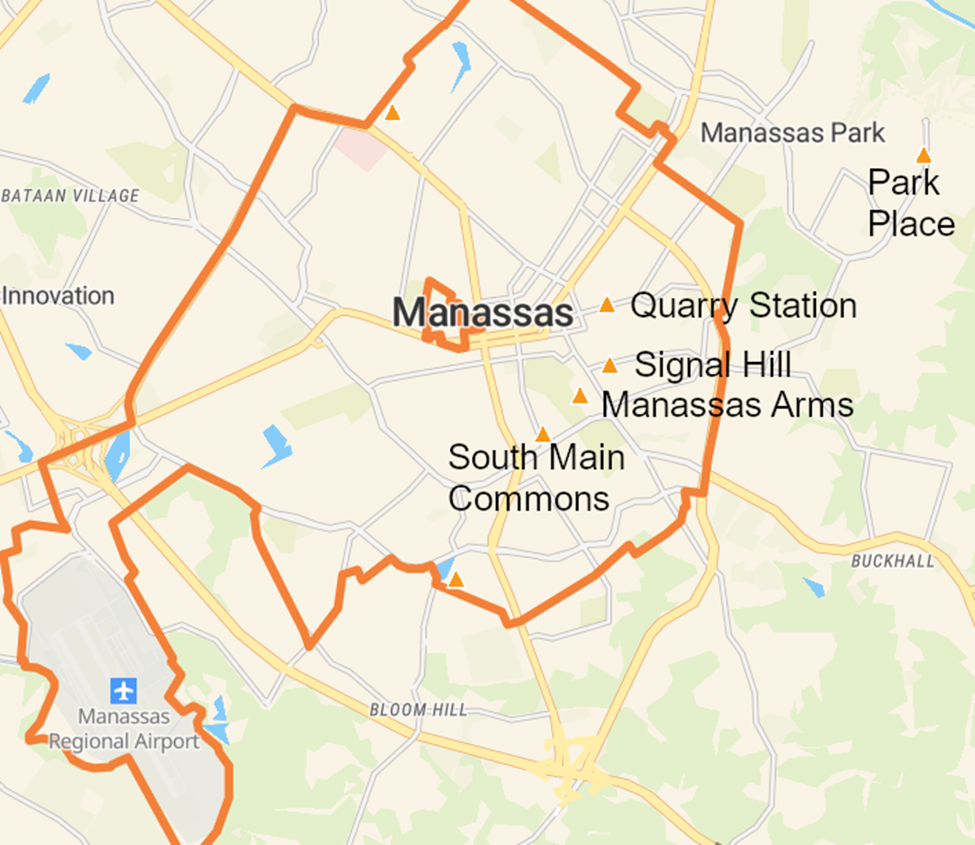 Resources
Prnce William County has identified a range of affordable housing needs, and various programs to address them: