The Emergency Food Pantry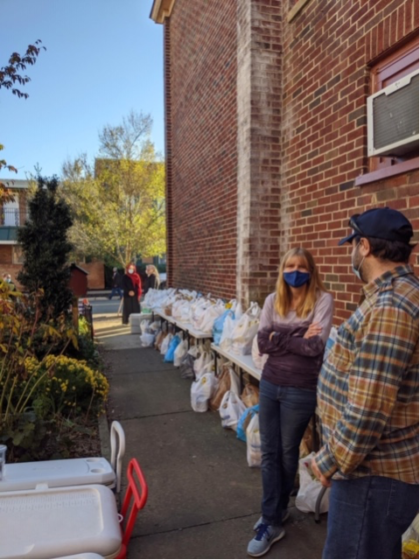 Begun in 2006 to meet a growing emergency need in the Manassas downtown area we began a food pantry that has evolved into two which are the regular pantry which is twice a month and USDA once a month.
If you need food, feel free to drop by.
Our regular food pantry is available to any person who needs food. Because there are other food sources in our community, our mission is to serve people who are homeless, underemployed, unemployed or who live nearby and lack transportation to receive food at other locations. We try to give a minimum of 3 days food. We provide translators for Spanish-speaking people.
Our regular food distribution days are the 2nd and 4th Tuesdays of the month from 9:30 am-1:00 pm. There are no forms to fill out, and food is available on a first-come basis. These distributions are funded through donations and grants, when available.
The U.S. Dept. of Agriculture (USDA) sponsored food distribution occurs on the 3rd Friday of the month from 12:00 noon -2:00 pm. There are federal guidelines to qualify for this food distribution but some are automatic such as SNAP and Medicaid participants. Most people in need of food qualify for this pantry, also.
GREAT NEWS! Help Fund the Bull Run Unitarian Universalist Emergency Food Pantry in 2021!
Matching grant from Grace United Methodist Church
Thanks to a matching grant from Grace United Methodist Church, the Manassas and Prince William community has a great opportunity to help the Bull Run Unitarian Universalist (BRUU) Food Pantry combat COVID-caused food insecurity in our area. Between now and January 31, 2021, all gifts made to BRUU's pantry will be matched by Grace UMC up to $15,000. That means that by 1/31/21, we could raise a total of $30,000 which will fund this ministry for the next 6 months!
This is a chance to come together in a show of support and solidarity across our institutions. We encourage you to give what you can, and spread the word to area faith communities and businesses.
Ways to Help:
The Sherman Family Matching Grant
Through the generosity of the Sherman family, the Sherman Family Matching Grant has been renewed. The Sherman family will match donations made to the food pantry up to $3,000 from now through January 2021. Thank you so much to Mary Sherman.
This grant and sustained donations are more important than ever. With so many having lost their jobs due to the COVID-19 pandemic, our pantries have been serving four times the number of families we served prior to the pandemic. In 2020 we were fortunate to receive grants that helped us to meet the need. These grants and the Farmers to Families program that supplied us with perishable foods will end at the end of the year.
We have no reason to believe the need will decrease in the foreseeable future. There is also currently no indication that grants will be available in 2021. The pantry staff are asking you to set up a monthly donation in any denomination that you are able to help us continue this important work.
For more information, contact Kathy Nickel and Laura Crowne at foodpantry@bruu.org.