Music Ministry
A Message From BRUU's Music Director
Music Ministry Overview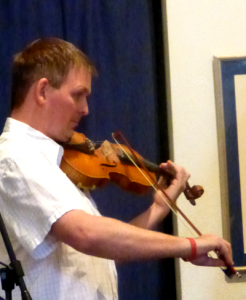 We have a vibrant music program at BRUU, with many opportunities for YOU to be involved. There are four choirs which meet regularly September-June.
Our children's choir is for kids who are 8-12 years old as of September 1 and rehearses on first and third Sundays and occasionally on a Thursday night. This choir sings about every other month at Sunday service. (see the Childres's Choir schedule).
Youth choir is for ages 13-18 and rehearses on first and second Sundays and occasionally on a Thursday or Monday night. This choir sings periodically at the Sunday service (see the Youth Choir schedule).
The adult choir is for anyone over 18 and meets on Wednesday nights from 7-8:30 (childcare is available) and sings on second and third Sundays. It is not necessary that you be able to read music or have prior experience; anyone who can match pitches and carry a tune is welcome to join.
UuPBeats is a choir for all ages and meets on first and third Tuesday afternoons; this group learns hymns, chants, rounds etc and does not sing for Sunday services. On third Tuesdays we meet at Caton Merchant House (an assisted living home near BRUU) and lead singing with residents there (see the UuPBeats schedule).
If you play an instrument and would like to share your talent, we have informal ensembles that meet and play periodically. Contact Annease Hastings for more information and if you would like to play for a worship service sometime.
We offer alternative worship experiences several times during the church year; evensong services are contemplative in nature and filled with music and poetry. They are on Friday nights at 7:30pm on:
September 30, 2016
November 11, 2016
January 27, 2017
March 17, 2017
May 12, 2017
The Music Liaison Committee sponsors our annual BRUU variety show.  This is a multi-generational talent show and is lots of fun.
Please contact our music director Annease Hastings for more information on any of these activities. (music@bruu.org or 703/361-6269)